Although best known nationally and internationally for his unobtrusive yet fortifying guitar licks and the warm, smooth vocals behind such groups as the Sir Douglas Quintet and the Texas Tornados (Freddie Fender, Flaco Jimenez, Augie Meyers and Doug Sahm), Louie Ortega can and does stand on his own as a singer/songwriter/guitarist.
With a career spanning more than three decades, Ortega got his start in 1969 as the front man for Columbia and Atlantic recording artists Louie and the Lovers. When the group disbanded, Louie joined forces with his friend Doug Sahm for a series of recording projects and European tours. His songs, such as "Little Georgie Baker" and "County Line," were mainstays of the groupís releases on Swedenís Sonnet Records. During this period, Ortega also quietly pursued a career as a solo performer and songwriter in his hometown of San Luis Obispo, California.
From 1989 to 1996, Ortega toured extensively throughout the U.S and abroad with the Texas Tornados. His performance and translation of "Soy de San Luis" on the groupís first album helped secure the band a Grammy in 1990. Their CD Four Aces, released in 1996, features two of his compositions, "Amor de mi Vida" and "Mi Morenita."
He has performed with the newly revitalized Sir Douglas Quintet (Doug Sahm, Doug Clifford, Augie Meyers and John Jorgenson) on Elektra Records. He has also released two solo CDs: You & I and In My Heart, featuring a collection of well-crafted tunes that demonstrate Louie Ortega can take front and center stage with the best of them.
In and around Paso Robles, California he can be seen playing with John Andrew Parks at various gigs as they work on a new exciting sound in music...they are calling Corn Bread Buddha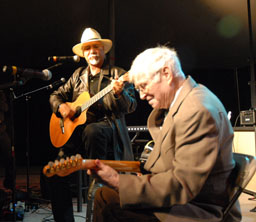 Louie and the late grate Norm Stephens
at the Paso Digital Film Festival, where
Louie first joined the historic list of
Pioneer Troubadours...
Reviews
"Heís got a hauntingly sweet voice, the perfect vehicle for his smartly written songs about love and life... I'm giving this CD my highest recommendation. It hasn't left my CD prayer since I got it. Run, donít walk to the nearest record store and pick up your copy. "
Strictly Starkey
New Times
San Luis Obispo, California
-----------------------------------------
The arrangements have more chardonnay sweetness than salsa bite, but Ortegaís smoky, soulful vocals save the album from slickness, and his writing reflects superior craftsmanship. Opening the album is "County Line"Ď, a song the Sir Douglas Quintet borrowed as a highlight of its recent reunion album.
Don McLees
Austin American Statesman
Austin, Texas