Mr. Make My Day seen on
Pine Street
Busis on Pine between 11th and 12th, which some
years back was the Crooked Kilt and back in the late
1800's was known as the Green Dragon Saloon...was
recorded to be built circa 1887, as a rooming house. You
can read more of the colorful history in the "Self Guided
Walking Tour of Historic Buildings."
When I brought Clint Eastwood to Paso Robles in 2008,
we had our first event at the Paso Robles Inn. Later I saw
Clint walking alone toward the Kilt by himself along the
park sidewalk. I later heard that he had gone into the bar
to have a beer. That night he told me that he used to go
there for a beer back in the days he was shooting Raw
Hide near Paso Robles and hung out here in Paso on
trips here to visit his friend James Brolin, who's married
to Barbara Streisand, and dad to Josh Brolin, who has returned to live in the area...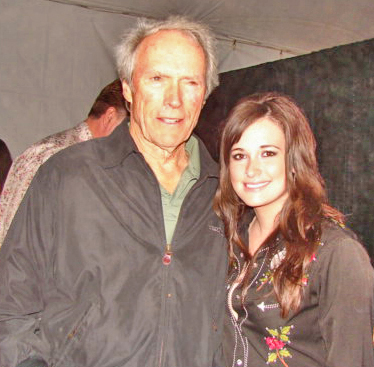 Clint Eastwood with rising country star Kacey
Musgraves, who sang at Pine Street Saloon on
her 2 visits to the Paso Digital Film Festival to
perform, in the early days of her rise to fame...
Brothels & Bordellos
As one might imagine, the Brothel
and Bordello history up and down
Pine Street is somewhat hid in history's
closet. Brothels are known under a
variety of names, including bordello, cathouse, knocking shop, whorehouse,
strumpet house, sporting house, house
of ill repute, house of ill fame, house
of prostitution, and pleasure house.

Stay tuned for more on this
colorful history of Pine Street,
the saloons, ladies of the night
and the buildings that housed em.