Hey, let's pave paradise and put

up a parking lot...
http://www.pasoroblesfilmfestival.com/Paso%20Robles.htm
Spring Street was once a ancient trail that came up from the ocean where Native Americans
and members of the was the "Old Spanish Mission Trail"
El Camino Real
The Royal Highway
The Kings Highway
California Mission Trail
road actually follows part of the San Andreas Fault.
The 101
Fishing pond on Spring Street
"When the wind is right, it'll clear out your sinuses," said Mayor Duane Picanco as he surveyed the fenced-off chasm that is the last grim souvenir of the San Simeon earthquake of 2003. "I can't wait to see it closed up and this chapter of the city's history ended."
By the 1960s, the springs' popularity had waned. Long gone was the era of wealthy travelers taking the waters at grand hotels. Conscious of the smell permeating Paso Robles, landowners capped their wells -- including one that lay beneath the land that would one day be home to City Hall.
After the geyser erupted, "a lot of old-timers were saying we should bring the baths back," Picanco said. "But that's not so easy."
For one thing, the Federal Emergency Management Agency would pay only for restoring a parking lot, not recapturing a faded tradition.
As it was, it took years to jump the bureaucratic hurdles; redirecting a torrent of sulfur-laden water with a temperature of 111 degrees required the blessings of the California Department of Fish and Game, the U.S. Fish and Wildlife Service, the Army Corps of Engineers -- "anyone," Monn said, "with an interest in and responsibility over inland waters."
http://articles.latimes.com/2010/mar/22/local/la-me-pit22-2010mar22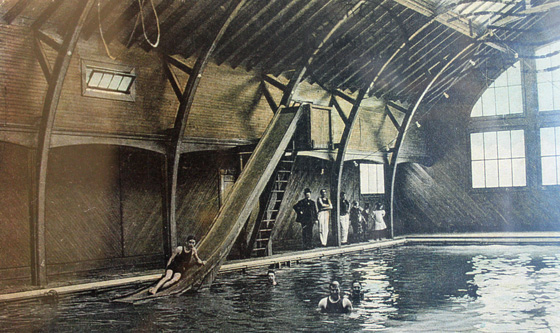 Paso Robles has long been known for its hot sulfur springs. In the 19th and 20th Centuries many visitors came to Paso Robles for what they believed to be the curative powers of the geothermal waters. The Salinan Indians—the most historical inhabitants of the area—were here thousands of years even before the mission era. They knew this area as the "Springs" or the "Hot Springs." The Indians, and later the Mission Fathers and their congregations, found relief from various ailments in the therapeutic waters and soothing mud baths, later cam the tourist and the famous, even baseball teams would come to heal in the springs.