Kenny Lee Lewis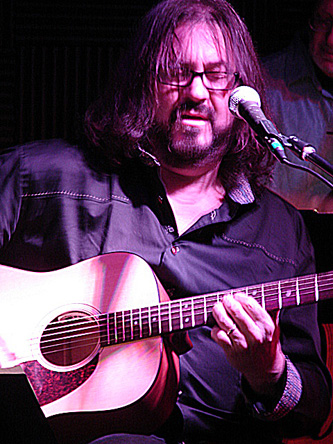 Kenny has been a regular touring member, producer and writer for The Steve Miller Band since 1982.
An accomplished studio guitarist and bassist for over 30 years, a few of Kenny's other credits include Bonnie Raitt, Eddie Money, Dave Mason, Billy Preston, Peter Frampton, Boz Scaggs, Brian Wilson, and Steve Stills.
Kenny's wide range of vocal stylings range from romantic ballads, blues, hard rock, reggae, and Latin. When not touring or recording, Kenny enjoys taking mature musical excursions when doing album projects, Movie and Television composing, or performing with his friends.
| | |
| --- | --- |
| Kenny Lee Lewis and Steve Miller | Kenny Lee (ft) and the Steve Miller Band and Steve Miller (rt) |
Kenny Lee has just released his new contemporary jazz instrumental guitar CD "New Vintage" on the New Folk/Allegro record label. Taking a break from playing such mega-hits like "Fly Like an Eagle" and "The Joker" for thousands on tour each summer, Kenny Lee has brought together some of the finest celebrity musicians in the business to offer this celebration of classic groove-jazz. Returning back to his early influences while playing in college jazz bands, Kenny Lee borrows sounds and techniques from Wes Montgomery, George Benson, and Howard Roberts.
Featuring such notable players as Ricky Peterson, keyboardist and musical director for David Sanborn and currently with Bonnie Raitt. Billy Peterson, former bassist and arranger for the Steve Miller Band, and co-owner of The Artist Quarter jazz club in St. Paul, MN. Paul Peterson, bassist for Kenny Loggins, George Benson, and Oleta Adams. Danny Pelfrey, saxophonist/composer who's credits include Diana Ross and Carole King. Gordy Knutson, drummer for The Steve Miller Band and professor of percussion at the McNally-Smith College of Music in Minneapolis, MN. Jason DeLaire, saxophonist formerly with Michael Bolton. Dianne Steinberg, recording artist and actress who portrayed "Lucy" in the Robert Stigwood production of "Sgt. Pepper's Lonely Hearts Club Band" and many other talented session players.
"New Vintage" has recently had rave reviews in Guitar Player Magazine, Vintage Guitar Magazine, and Wine and Jazz Magazine.
Legend David Amram, Kenny Lee Lewis and Filmmaker Chuck Banner

at the Paso Digital Film Festival in Paso Robles...

visit Kenny's wesite at: